Project planning and construction
Ship, special-purpose machinery and vehicle construction, or special applications: Throughout our many years working in the industry, we have developed and constructed hydraulic systems for the most diverse uses.
Needs analysis
Thanks to our wealth of experience, we are both proficient and reliable in what we do - even when it comes to special requirements, such as:
Redundancy
Seawater resistance
Use in desert regions
Ex-systems (NEC, IEC, ATEX Directives)
Vibrations
Skydrol testing
Presses
pecial-purpose media (heavy oil, food oil, transformer oil)
Monitoring systems to check the system condition
Certification/Approval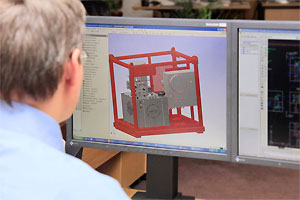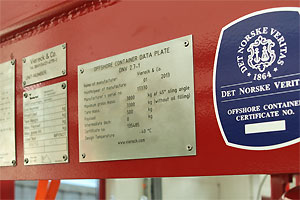 Certain countries/operational areas have their own particular standards and regulations – something which we take into consideration from the very beginning.
UL Underwriters Laboratories
NEMA National Electrical Manufacturers Association
AS Australian Standard
ANSI American National Standards Institute
TR (technical regulations; Russian технический регламент)
GOST (GOST-R) gossudarstwenny standart (now EAC)
EAC Eurasien Conformity
BS British Standard
GL Germanischer Lloyd
BV Bureau Veritas
DNV Det Noske Veritas
LRS Lloyd´s Register of Shipping or Lloyd´s Register Society
ABS American Bureau of Shipping
RINA Registro Italiano Navale
In addition to the DIN and UL standards which apply to the fields of electrical engineering and electronics, there are also additional regulations which need to be observed in different countries, depending on where the system is used e.g. for EX systems for basic hydraulic supply and control (used worldwide on and offshore):
NEC National Electrical Code (USA)
IEC Ex International Electrotechnical Commission (IEC/EN 60079)
ATEX Directives (EU)
Project planning & construction
Control planning
Electrical and hydraulic circuit diagrams
Component selection (pumps, valves, pipes, switches, filters, etc.)
Developing/construction control blocks
Pipework plan
Control box layout
Monitoring systems/safety circuits
Documentation and maintenance schedules
From the very beginning, we aim to make sure our systems have long lives by supplying compete documentation and precise maintenance schedules.
What's more, we help our clients to produce functional specification documents and invitations to tender.
Just contact us and we'll find a way to meet your requirements!
Viereck hydraulic systems are used across the globe – find out more from our testimonials!