---
29.03.2021 Certified Excellence Partner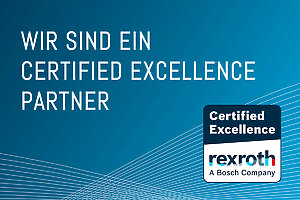 During an extensive evaluation process, Viereck qualified as a Certified Excellence Partner of Bosch Rexroth. We are proud to have been offering hydraulics from Bosch for 64 years now. The high quality requirements of this partnership are the guiding principle of our company.
As a Certified Excellence Partner, we offer intelligent, safe and efficient solutions from Bosch Rexroth. We are not only certified technical experts, but also offer you excellent engineering. From design and plant engineering to assembly and commissioning, we are passionate about realizing systems and subsystems that meet the highest performance requirements.
Extensive training and qualifications on Bosch Rexroth products and applications enable us, as a Certified Excellence Partner, to apply this in-depth knowledge to all the solutions we offer.
As a Certified Excellence Partner, we are available to provide you with expert advice and sales support.
As a Certified Excellence Partner Service, we are also the experts for competent consulting and after-sales support for Bosch Rexroth products and solutions. In addition to qualified know-how, we offer you fast spare parts support and qualified repair service.
You can also benefit from our comprehensive range of services: field service, retrofit, product overhaul, system optimization, condition monitoring with predictive maintenance.
As a representative for AE service, we combine the two worlds of electrical engineering and hydraulics of Bosch Rexroth AG. From us you get the best of both worlds from one source.