Servicing and repair work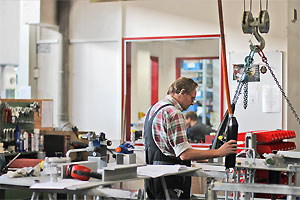 As a certified service partner, we make sure that your hydraulic systems function reliably, anywhere in the world. The regular servicing and maintenance work undertaken by our specialists aims to guarantee that your system will continue to work without a hitch for years to come. Thanks to our up-to-date technical expertise, we are also proficient when it comes to repairing or enhancing your system.
In-house spare parts warehouse
Service vehicles
Repairs - field service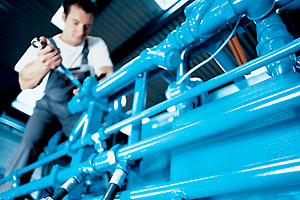 Troubleshooting
Hydraulic ram and cylinder replacement
Pump replacement
Electric motors and electric components
Pipe and tube repairs
Valve replacement
Adapting performance to new requirements, e.g. presses when the product has been changed
---
Repairs
Cylinders
Hydraulic rams
Motors
Pumps
Valves
Electrical technology
...and anything else on a hydraulic system
---
Oil service, cleaning and preservation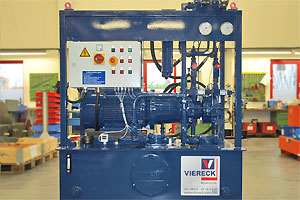 Washing the units and pipe systems (maximum

750 l/min)

Changing filters
Changing oil

Analysing oil/fluid service (laboratory testing)

Particles (contamination, extent of soiling)
Viscosity
Chemical composition

Properly disposing of used oil
---
System and container testing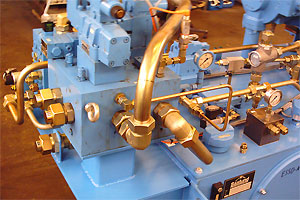 Pressure storage reservoir testing as per the Regulations on Industrial Health and Safety,

§ 14 (2)/§ 15 (2),

in cooperation with TÜV
Safety assessments
Leakage testing in our own testing facilities
Functionality testing
---
System refits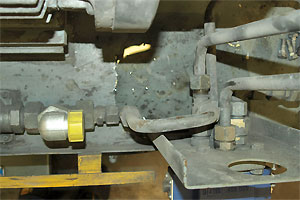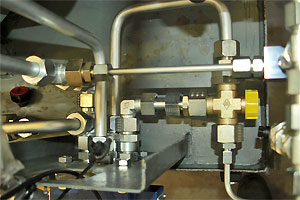 In many cases, old systems can be optimised and fitted with modern components to make them both safer and more efficient. As the number one partner of Bosch Hydraulics + Pneumatics (Bosch Hydraulik + Pneumatik, 1957), we have access to an extensive directory of data sheets for old systems, meaning we can upgrade these older systems at a reasonable price.
---
PLC remote maintenance unit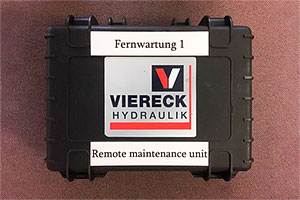 Our PLC remote maintenance unit enables our specialists to service systems without being present on site. If required, we can send our PLC remote maintenance unit to the site, which saves costs and valuable time.
Via a secure connection, our specialists can analyze and optimize the functions of the system and initiate any necessary measures.
Read more about our new PLC remote maintenance unit.
---
A proficient supplier/partner
We are the service and distribution partner for Bosch Rexroth and MOOG, among other things. This means that we can provide our customers with a first-class, all-round service, and all from under one roof.
Find out more by visiting our "About Us" page!
---
Rental equipment
Where possible, you can rent a system from us whilst your own system is undergoing repair work, meaning downtimes become shorter. Please visit our "Rental Equipment" page to find out which devices and systems are currently available!
Viereck hydraulic systems are used across the globe – find out more from our testimonials!